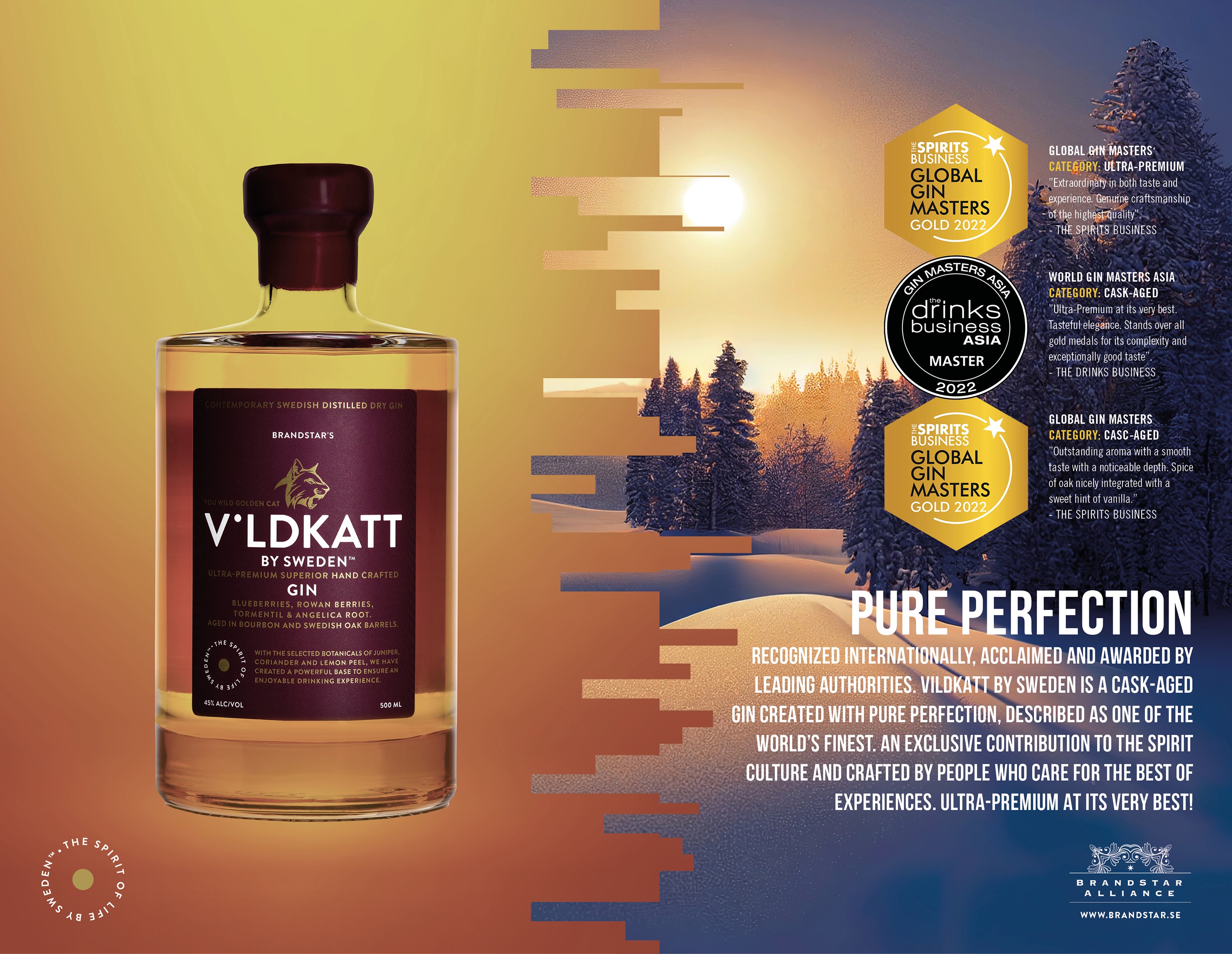 The names carry our history
With VILDKATT BY SWEDEN™ we continue our efforts to create one of the world's finest gin series, an exclusive contribution to the spirit culture, an experience for beverage enthusiasts as well as Connoisseurs, Bon Vivants and Collectors. VILDKATT BY SWEDEN™ comes as a continuation of our internationally recognized and award-winning GIN-trilogy Enastående Magnificent Gin, Stjärnklar Starry Gin and Supermåne Supermoon Gin. It is a result of a strong desire to offer distinguished experiences of genuine tastes combined with authentic artistry developed through a close companionship with some of Sweden's very best and most experienced craftsmen and professionals.
The story behind the creation of VILDKATT BY SWEDEN™
VILDKATT BY SWEDEN™ is a further refinement of the already award-winning Stjärnklar Starry Gin which was put in two different barrels, one bourbon barrel and one Swedish oak barrel. After four months in the barrels the gin has been mixed according to a carefully tested and secret formula in order to bring out both the beautiful colour and the exclusively balanced character. With the selected botanicals of juniper, coriander and lemon peel as a powerful base, together with elements of blueberries, rowan berries, angelica root, tormentil and a lighter tone of vanilla, we have created and ensured an enjoyable drinking experience. The result is an exclusive stored gin with rich spice from all the botanicals that comes forward in a tasty and characteristic way.
With the ambition to produce and present an extraordinary drinking experience filled with character and elegance our aim was to create a gin at the highest level. With VILDKATT BY SWEDEN™ we secured BrandStar´s first limited and exclusive stored gin with 50 bottles, and the response was fantastic. Now we can present our second limited batch that is available in 100 bottles, says Steven Kautzky Andersson and Catherine Engelbrekt, founders, developers and producers for BrandStar Alliance.
A fruitful collaboration with two of the finest
VILDKATT BY SWEDEN™ according to Michel Jamais, one of the world leading spirits experts who has also been involved to secure the balance the two different characters of the barrels.
Deep straw yellow colour and great aroma with noticeable depth. Slightly sweet and soft spice that nicely blends all the components of the gin. Clear seasoning with nice florality and a nuance of red berries. The taste of oak emerges but it is nicely integrated with a hint of vanilla aroma. The sweetness of the juniper is there, and so is the spice of oak. After five minutes in the glass – balanced elegance reflecting the character of the spice, says Michel Jamais.
VILDKATT BY SWEDEN™ according to Solveig Sommarström, one of Europes most experienced water and aroma expert, as well as chemist and master blender, who has been involved in developing all of BrandStar Alliance's ten recipes together with Steven Kautzky Andersson and Catherine Engelbrekt.
There is an appealing freshness that comes from the storage in Swedish oak barrel combined with bourbon barrel that adds a slightly duller taste. It has a pleasant aroma and taste that in a nice way highlights the character of the oak barrel. Nice fruitiness and spice that come forward in an excellent way. A selection of exciting plant ingredients offers clear associations to the beautiful nature of Sweden, says Solveig Sommarström.
The launch
Experience and order the limited and exclusive VILDKATT BY SWEDEN™
VILDKATT BY SWEDEN™ was developed with great care and precision as an exclusive aged gin. Only 50 limited bottles (500 ml, 45 % alc/vol) was released in Sweden as the first batch, in the summer of 2022, and it was sold out after just a few days. Now the second batch is availble with 100 limited bottles through Systembolaget's order assortment. VILDKATT BY SWEDEN™ was at the start recognized internationally and awarded a "MASTER MEDAL" in the prestigious WORLD GIN MASTERS ASIA 2022. Later same year it received two prestigious gold medals at GLOBAL GIN MASTERS in the category Cask-Aged Gin and Ultra-Premium Gin. This means that parts of the established drinks expertise have had their say after a number of blind and taste tests, arranged by the established drinks authority such as The Drinks Business and The Spirits Business.

GLOBAL GIN MASTERS
Category: ULTRA-PREMIUM
"Extraordinary in both taste and experience. Genuine craftsmanship of the highest quality.
- The Spirits Business

GLOBAL GIN MASTERS
Category: CASK-AGED GIN
"Outstanding aroma with a smooth taste with a noticeable depth. Spice of oak nicely integrated with a sweet hint of vanilla."
- The Spirits Business

WORLD GIN MASTERS ASIA
Category: CASK-AGED GIN
Ultra-Premium at its very best. Tasteful elegance. Stands over all gold medals for its complexity and exceptionally good taste.
- The Drinks Business

VILDKATT BY SWEDEN™ is the fourth release of the company's twelve different products that BrandStar Alliance have developed.

Systembolaget's order number: 5676402
- blueberries
- tormentil
- rowan berries
- angelica root

Make an order of VILDKATT BY SWEDEN™ at Systembolaget, the Swedish government retail-owned liquor store.

ORDER NOW


Enjoy
Choose the right opportunity and drink in moderation.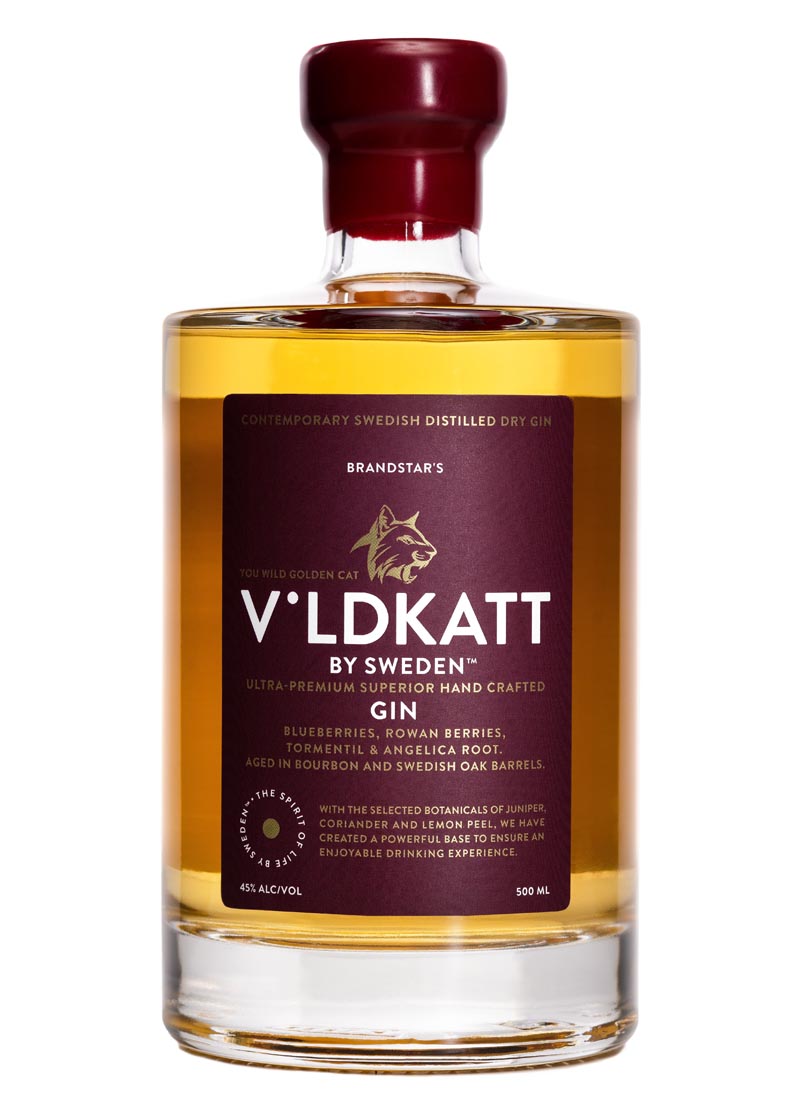 We are driven by the genuine tastes and the authentic artistry. Based on our history and our love to Swedish design we want to curiously search and contribute to the drinking tradition with products appealing to both beverage enthusiasts and bon vivants as well as connoisseurs and collectors. Our aim is to be an exciting complement to many of the finest premium and ultra-premium products already on the market, says Steven Kautzky Andersson and Catherine Engelbrekt.