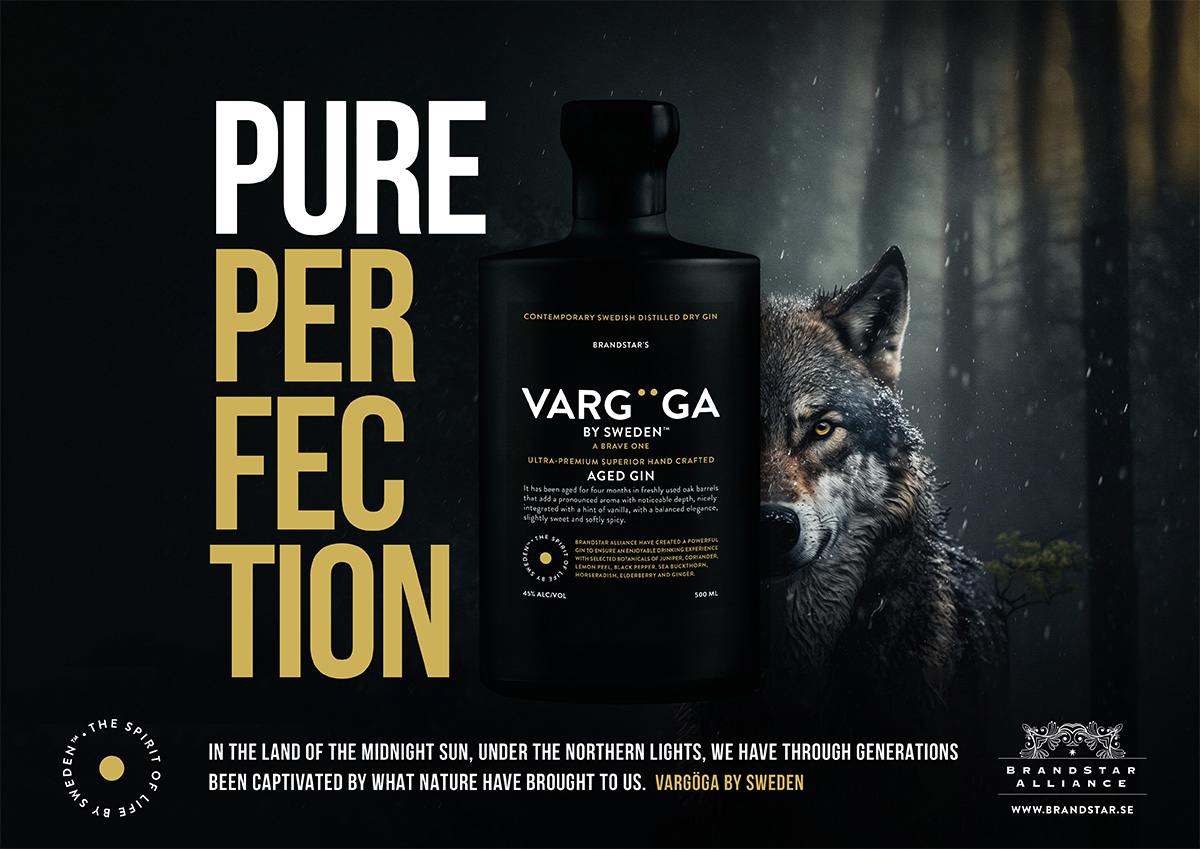 The legend about the white wolf
It is tenacious, intelligent and a true survivor. With its impressive speed and strength, it makes decisions that can be absolutely decisive. With its gaze, it is filled with both courage and power. It doesn't always show itself, but it is there all around us. The white wolf, the one who stands up for his pack. VARGÖGA BY SWEDEN™ - A brave one.
With the ambition to produce and present an extraordinary drinking experience filled with character and elegance our aim was to create a gin at the highest level like our Vildkatt by Sweden™ but with a totally different taste profile. So we secured BrandStar´s third limited and exclusive stored gin with only 80 bottles, a limited and exclusive batch, says Steven Kautzky Andersson and Catherine Engelbrekt, founders, developers and producers for BrandStar Alliance.
In order to bring out both the beautiful colour and the exclusively balanced character, the stored gin has been mixed according to a carefully tested and secret formula together with beverage expert Michel Jamais. He is noted for his books on wine, spirits and food. He is also an internationally requested and popular lecturer, educator and sommelier. Many of the world's leading sommeliers have been coached by Michel Jamais.
Perhaps the best and above all the most interesting series of spirits of today from Sweden I have seen, tasted and experienced my way through! Steven Kautzky Andersson and Catherine Engelbrekt, together with the spirit master and spirit chemist Solveig Sommarström, have developed and created a fantastic family, of both vodka and gin, with truly unique and peculiar varieties, with solid feet in Swedish spirit history. Their edition of Vargöga by Sweden is no exception, full of character, with many exciting flavors and aromas. When I was asked to set the balance between the characters of the two different aged casks, it felt thrilling considering the way they choose to develop their products, says Michel Jamais.
Experience authentic artistry
With inspiration from the wild, mystic and enthralling Sweden, BrandStar Alliance can present VARGÖGA BY SWEDEN™, with its 80 copies it is a very exclusive and limited edition that is created together with Solveig Sommarström, one of Europe's leading and most reputable master blenders as well as chemist and water and aroma expert. Member of the Swedish Academy of Spirits. Appointed Head of Laboratory at Vin & Sprit at the age of 27. Today with over forty years of industry experience, with many leading brands, among them Absolut Vodka.
BrandStar Alliances exclusive ultra-premium series comes as a result of a strong desire to offer distinguished experiences of genuine tastes combined with authentic artistry. Developed through a close companionship with some of Sweden's very best and most experienced professionals.
Our driving force is all about of creating a series of spirits that has a distinctive character, loaded with exclusive craftmanship and tasteful elegance. Our passion is to do things differently and create an exclusive contribution to the spirit culture, an experience for beverage enthusiasts, connoisseurs and bon vivants as well as collectors, says Steven Kautzky Andersson and Catherine Engelbrekt.
Experience and order the limited and exclusive VARGÖGA BY SWEDEN™
VARGÖGA BY SWEDEN™ is the seventh release of the company's twelve different products that BrandStar Alliance have developed.

Systembolaget's order number: 51765
- black pepper
- sea buckthorn
- horseradish
- elderberry
- ginger
45 % alc/vol 500 ml

Make an order of VARGÖGA BY SWEDEN™ at Systembolaget, the Swedish government retail-owned liquor store.

ORDER NOW


Enjoy
Choose the right opportunity and drink in moderation.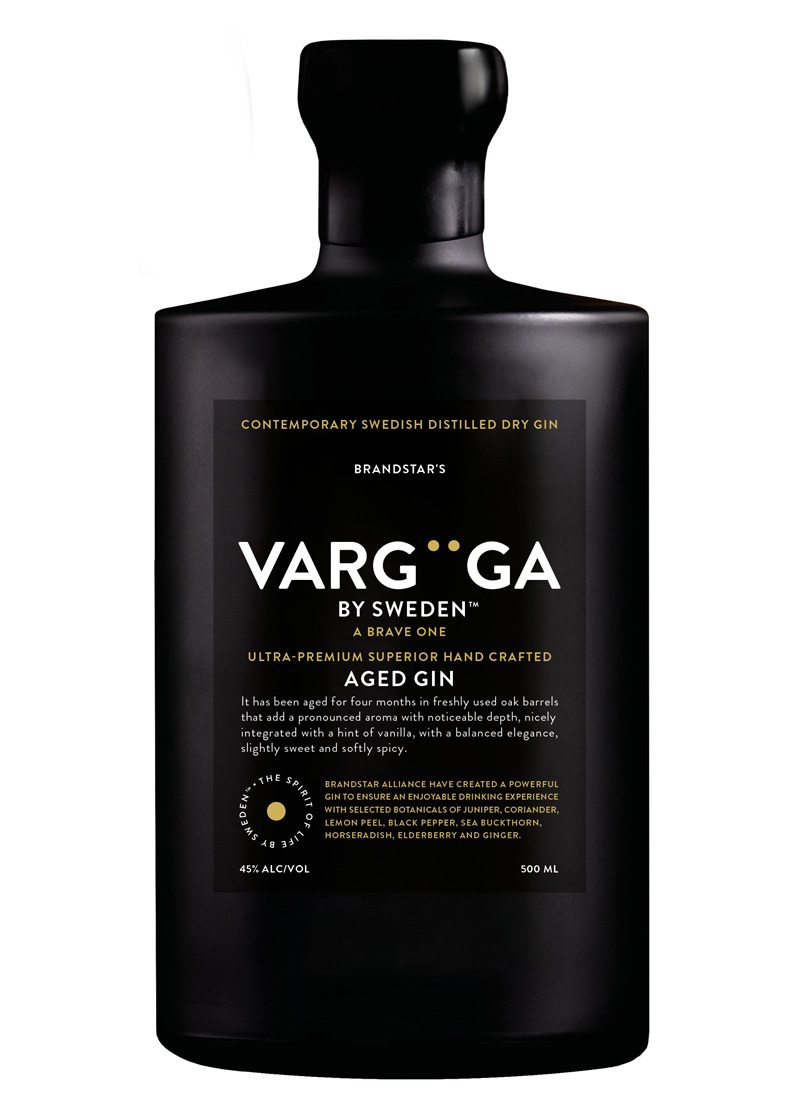 We are driven by the genuine tastes and the authentic artistry. Based on our history and our love to Swedish design we want to curiously search and contribute to the drinking tradition with products appealing to both beverage enthusiasts and bon vivants as well as connoisseurs and collectors. Our aim is to be an exciting complement to many of the finest premium and ultra-premium products already on the market, says Steven Kautzky Andersson and Catherine Engelbrekt.