We invite you to experience MIDNATT BY SWEDEN™, our tribute to Swedish nature. When it is at its most magical.
Midnight, the darkest time of the day, a state when the mind opens up and makes you aware of things you otherwise don't experience. You go out into the wild nature and meet the silence under the dark colourful sky. A soulful experience for body and soul. Leaves only a few untouched.
MIDNATT BY SWEDEN™ is BrandStar Alliance's fifth product that offers a taste profile of unrivalled and elegant quality, with strong character. A contemporary distilled dry gin with an Old-Tom twist, aged for four months in a freshly used bourbon barrel. It is exclusively produced with great care to ensure a superb spirit that we can be really proud of, in a limited edition of 50 copies. Botanicals from the Swedish nature add a pronounced vanilla character. Slightly sweet and softly spicy. It is a true artistry and crafted by people who care for the best of experiences, with a sense of purity and authenticity.
Limited edition. Hand-crafted. Small batch.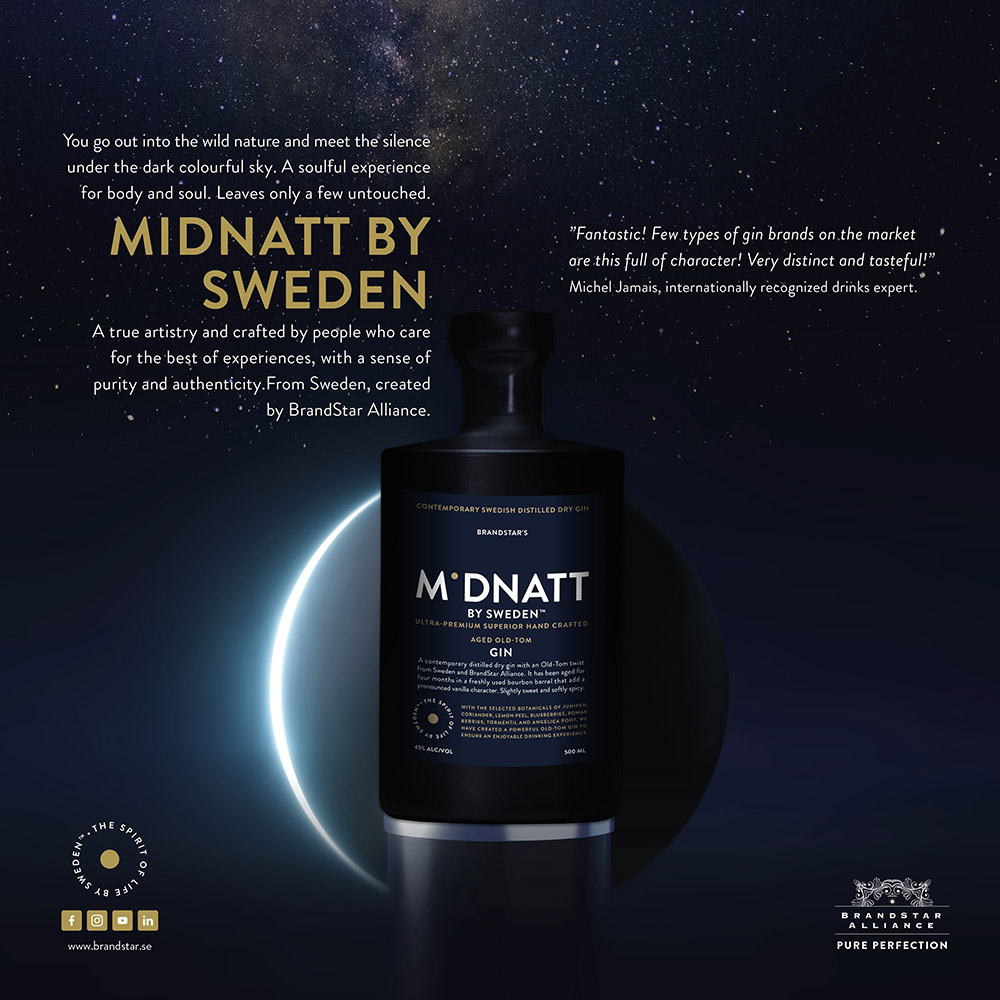 It has taken time to develop Midnatt by Sweden
MIDNATT BY SWEDEN™ is the result of a successful collaboration between founder Steven Kautzky Andersson, co-owner Catherine Engelbrekt and master blender Solveig Sommarström. With almost 40 years of experience Sommarström is one of Europe's most experienced and skilled spirit masters.
Midnatt by Sweden follows our idea of producing some of the world's finest and tastiest spirits, with strong powerful characters, tasty and balanced drinks that's recommended to be enjoyed neat to get its full potential. With a clear focus on a content that keeps what it promises, says Steven Kautzky Andersson.
Together with the designer and AD Tommie Samuelsson we have succeeded in creating a drink that, with the combination of high-quality content and a stylish visual expression, reflects where we got our inspiration from, says Catherine Engelbrekt.
The internationally renowned and recognized drinks expert Michel Jamais pays tribute to MIDNATT BY SWEDEN™.
It is a gin full of character with a distinct (bravo!) character of juniper, with exactly the typically spicy and floral perfume that you want from a really good and high-quality gin. In addition, one notes elegantly placed nuances of a slightly more discreet kind, not only citrus peel but also a sweet fruitiness that particularly emerges in the aftertaste. The oak barrel character is in the background, and a fine vanilla sweetness is noted in the aftertaste. Thanks to its distinctive character, Midnatt by Sweden is an exceptionally fine gin to make cocktails with. Thanks to the alcohol strength of 45 percent it is perfect for a more exclusive Gin & Tonic, but nevertheless also excellent for a tastier Dry Martini! Few gins on the market are this full of character and as distinctive!